Establishing a circular economy has become the new global imperative for restoring and regenerating a societal model oriented to sustainable means of production and modes of consumption. This transition is not an easy process, though. Changing people's habits and daily routines remains challenging, while the complex, dynamic and forever-changing sustainability paradigms discard any concrete attempt to establish a circular economy.
In economically exploited regions, a circular economy is nothing but a utopia. Among the Western Balkans, Kosovo's Promethean destiny seems unavoidable. Although a series of policy projects have been aligned with the EU climate acquis, a zero-waste economy remains far from a concrete reality. Nonetheless, a large number of circular economy-oriented social enterprises have been mushrooming in the last couple of years across the country. Worthy of mention, among others, are the Kosovo Glass Recycle (KGR) in the city of Gjakova and the Social Enterprise and Recycle (SEREC) in the region of Peja.
The @serec_project lies in the philosophy of circular economy. Recycling and reusing textile apparel to be sold has brought to the opening of a second-hand shop designed entirely by recycled waste material. Powered by the local NGO "Let's do it Peja," supported by the European Union Office in Kosovo and co-financed by the Municipality of Peja, SEREC has established a chain of recycling-and-sorting waste textiles to be potentially placed in-store and sold upon reception. The project has entered the fashion circle successfully, participating in the latest editions of the Pristina Fashion Nights and other international galas. Promoting alternative production and consumption models cannot but link education and civic activism together. This is why SEREC organizes vocational training activities in schools, educational centers, and universities. "Odhise Paskali" Art School was recently engaged in a cloth-redesign program to equip students with new skills and knowledge about the future of the circular economy and group work.
"Education is key at all levels. We partner with the University of Peja, whose Faculty of Business and Management in Tourism, Hospitality and Environment have trained students that now work with us and put their knowledge into practice."
– Urim Xharavina, Let's Do it Peja
Kosovo Glass Recycle (KGR) is another concrete reality in Gjakova. Born as a family business, KGR has recycled about 500 tons of glass in the last two years. Although glass recycling has not yet found the deserved space across media and stakeholders, the United Nations Habitat program "For a Better Urban Future" has recently awarded the KGR founder, Martina Berisha, in the framework of the #WasteWiseKosovo Challenge. The idea to transform a recycling-oriented project into a sustainable family enterprise in Kosovo has also opened up new opportunities in the long run. The recycled glass material aims to free Kosovo from waste and transform such an abundant quantity of collected glass into new items. KGR has produced pool filters out of its glass recycling business, but other home furniture pieces are now produced: sidewalks, tables, water collectors, and tiles. Recently, the Faculty of Architecture of the University of Prishtina has been using some of these products as samples for classes to stimulate students' l fresh ideas.
"There is not only plastic pollution in Kosovo. Glass is a big part of people's misbehavior and lack of institutional capacity to tackle the issue of glass pollution. Kosovo has neither disposed nor recycled glass since its independence,"
Martina Berisha, KGR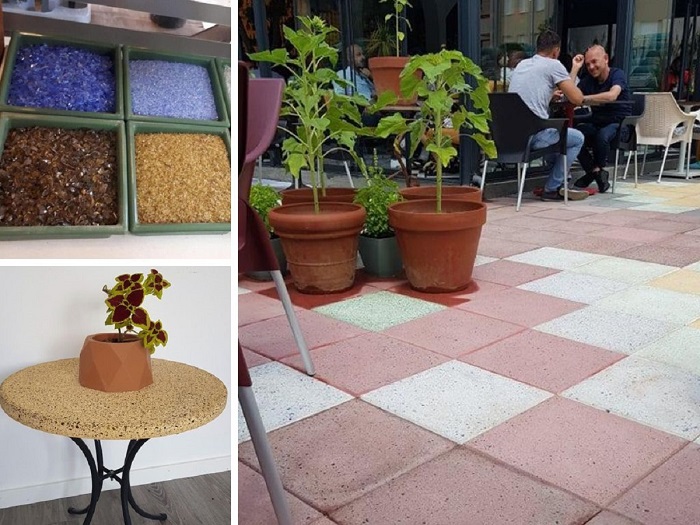 © Kosovo Glass Recycling
The UN-Habitat acknowledgment has fostered KGR's investments on a local level. Investing in glass waste management means acknowledging an opportunity for the local population in Gjakova and Kosovo to struggle against illegal landfills. Yet, on a local and national level, other significant concerns slow down the development of a circular economy.
Although the pandemic has raised the level of awareness among Kosovo's citizens, the potential of a circular economy is still compromised by the absence of an ad hoc market sector and the lack of capacities and technical knowledge to support new alternatives on the ground. Among others, local institutions' dependency on foreign donors and top-down projects are major concerns. Besides the waste transportation and storage issue, the profound disengagement between social enterprises and local authorities.
The latest Environmental Protection Agency report noted that the total number of households with access to some recycling activity in Kosovo is 15.061 units, representing almost 5% at the national level. Only seven municipalities out of 36 have today in-place infrastructures for separating waste at the source for the households. The agency underlines that the majority of Kosovo's municipalities are still unable to report on state of the art in their respective territory regarding recycling activities and practices due to the lack of data. As a matter of fact, it is neither possible to generalize nor have a bigger picture of the issues at stake.
Francesco Trupia & Gentiola Madhi
This article was written as part of wider research and advocacy efforts supported by the Kosovo Foundation for Open Society in the context of the 'Kosovo Research and Analysis Fellowship'.