Lithuania – a Baltic country with a population of 2.7 million (2.795 million as per 2020) collected 5 million euros for Bayraktar TB2 – a medium-altitude long-endurance unmanned combat aerial vehicle – for Ukraine. Initially, the sum was planned to be collected in three weeks, however, the end goal was attained in just three days. What is notable for this crowdfunding is that the majority of donations were between 5 to 100 euros. Thus, it is mostly the civilian population. This is unprecedented for civilians of one country to collect money for the military support of another state. Now that the money is collected the Lithuanina Ministry of Defence will purchase the military drone for Turkey.
Walking on the streets of Europe you feel a sense of solidarity, however, certain cities stand out. Vilnius is among them. The Ukrainian flag is omnipresent with one of the buildings in the financial sector boasting the big 'Putin, the Hague is waiting for you' sign. Lithuania was among the first countries to 'close its sky' to Russian aircrafts and the first EU state to announce a complete rejection of the Russian gas. In May, the Lithuanian Seimas adopted a resolution declaring Russia a "terrorist state."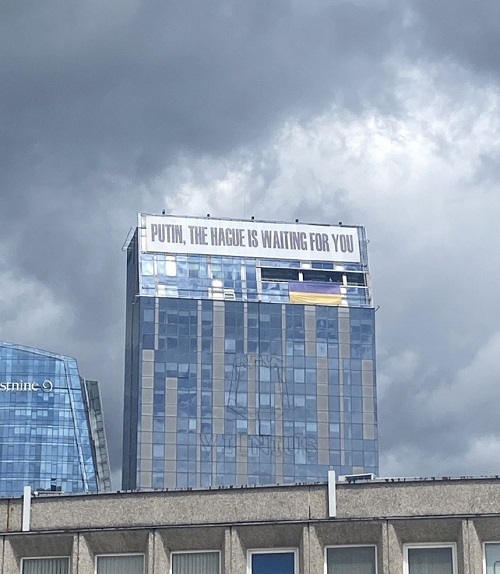 Lithuania borders the Russian exclave – Kaliningrad. On 18 of June Lithuania imposed a ban on rail transit through its territory to the Kaliningrad oblast on goods that have fallen under European sanctions. The ban includes coal, metals, cement, wood, building materials and high-tech products. Restrictions on the supply of petroleum products may be introduced in August. According to the first estimate of the Governor of the Kaliningrad region, Anton Alikhanov, 40-50% of all cargo was banned. The governor expressed his frustration by saying: 'We believe that this is a gross violation of the protocols on the accession of the Baltic states to the EU, it is a violation of the rules of free transit to/ from the Kaliningrad region. This was an obligation of the EU and the Baltic States. This is also a humanitarian issue, an attempt to strangle our region economically'. Lithuanian Foreign Minister, Gabrielius Landsbergis voiced that the ban is accounted for by the implementation of the sanctions imposed by the EU and that they were undertaken with consultation with the European Commission.
Dmitriy Peskov called Lithuanias' actions 'unprecedented'. Today, on June 20, the Baltic Fleet reported: 'The [Russian] manoeuvres were conducted in the Baltic Sea and at combat training grounds in the Kaliningrad Region.' The exercises involved 10,000 people, up to 60 surface warships, boats and support vessels, about 45 aircraft and helicopters, as well as up to two thousand units of combat and special equipment according to Meduza.
Lithuania's geopolitical motives for joining the EU in 2004 stem from the occupation of the 1940s. The 'return to Europe' was beneficial not only economically but also strategically. Lithuania was exposed to what Ukraine experiences right now, hence, the immense support.