China's Belt and Road Initiative reached the Balkans – primarily through Cooperation between China and Central and Eastern European Countries (China CEEC or 17 + 1) initiative. China provides loans in the infrastructure and energy sectors, and projects its soft power through various cultural activities. However, China's arrival in the Balkans also received criticism and condemnation from the EU, which still perceives this area as its own playground. One of the countries that expects to benefit immensely from the initiative is Bosnia and Herzegovina.
Relations between Bosnia and Herzegovina (BiH) and China in the post-Dayton period have only intensified since 2012, when BiH joined the Cooperation between China and Central and Eastern European Countries (China CEEC or 17 + 1) initiative. According to the European Investment Bank, Bosnia and Herzegovina is one of the countries that benefited most from the establishment of the initiative, where as much as one fifth of the money was designated for projects in this country. It was also announced that in the future, BiH could play a more significant role and host meetings at ministerial level. During the last Summit in Dubrovnik when the initiative was re-branded from 16+1 to 17+1 (Greece joined), there was also "Mostar International Trade Fair", which brought around 100 Chinese companies to BiH.
Infrastructural development
China CEEC yielded Stanari Thermal Power Plant project, which was marked as the first successfully implemented project within the initiative at the 2018 Sofia Summit. In March this year, Parliament of Federation of Bosnia and Herzegovina gave consent to a loan of around 613 million euro from China's Exim Bank to build another power plant, this time in the city of Tuzla. The loan, taken by Public Enterprise Electric Utility of BiH, represents the largest post-war investment in the country. However, not everything about it is necessarily positive. As with most projects in which China provides a loan, Chinese companies are the ones being hired to build the power plant. Generally, investments in the energy sector have received a lot of criticism from the civil society organizations, as well as from EU officials, primarily because of the environmental threats and potential hazards for the citizens. Additionally, projects that are not focused on the production of clean energy move BiH away from EU standards.
Stanari Thermal Power Plant (source: http://www.eft-stanari.net)
Globally, the Belt and Road Initiative pays great attention to building infrastructure. In BiH, this is primarily noticeable in the Republika Srpska entity, where several highway construction projects have been agreed (e.g. Banja Luka-Prijedor-Novi Grad highway). Likewise, in November 2019, the foundation stone was laid for the construction of a 10-kilometer highway near the town of Čapljina in Herzegovina. Furthermore, the construction of a modern hospital in the city of Prijedor is being carried out by China's Sinopharm International Corporation. The biggest criticisms of infrastructure projects relates to the business model China is presenting, or more specifically the possibility of the so-called "debt trap". Additionally, Chinese companies hire their own nationals, which is why companies in the country where the project is being implemented often have no benefits.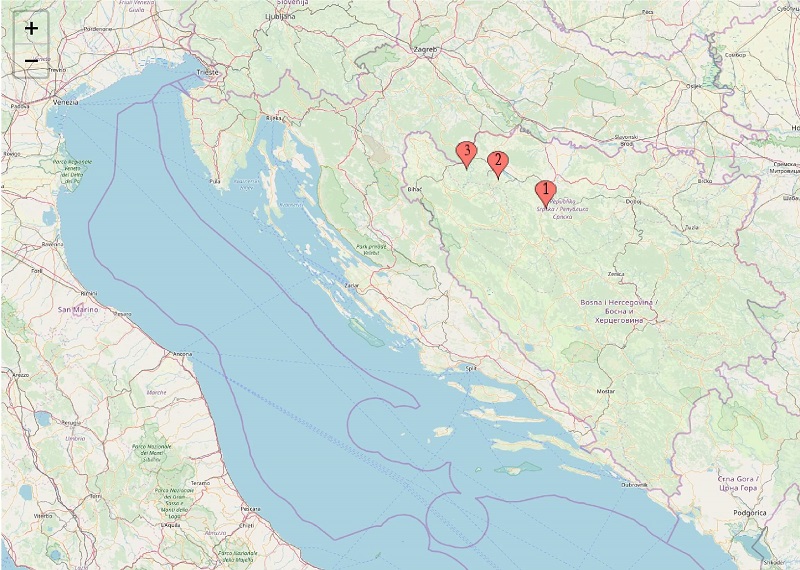 Banja Luka-Prijedor-Novi Grad highway
Soft power projection
After the 17th Congress of the Communist Party of China in 2007 and the famous call by the former Chinese President Hu Jintao for China to pay more attention to its soft power and to promote culture, Chinese leadership has invested considerable resources and efforts to achieve desired objectives. In 2014, President Xi Jinping reiterated this idea and reaffirmed the focus on the same goal – even in countries such as BiH, which historically and geographically did not have much contact with China. The Visa-free arrangement from May 2018 caused the significant increase in the number of Chinese tourists in BiH compared to the previous year. Interestingly enough, Walter Defends Sarajevo Museum, which was opened in 2019, has guests from China as its primary target group. Namely, the 1972 cult movie is one of the few foreign movies that were allowed to be screened in Mao's China. Some records show that this movie was watched by hundreds of millions of Chinese people and that it was named as one of the most watched war movies ever.
Walter Defends Sarajevo (source: xinhuanet.com)
Currently, the Association "Bosnian-Chinese Friendship" works actively in BiH and promotes Chinese culture, tradition and language. Recently, the state broadcaster BHRT agreed to show the series "Charming Beijing" and the Beijing 2022 Winter Olympics. Additionally, in June 2019, the government of Republika Srpska entity adopted a proposal to teach Chinese as a foreign language in schools. Previously, Chinese language was introduced through optional teaching in 2017. After the adoption of this proposal, the Confucius Institute from Beijing promised to provide a teaching staff.
Charming Beijing promotional event in Sarajevo (source: kina-danas.com)
European Union's perception of China's presence
A number of political analysts believe that Chinese actions in the Balkans could lead to adopting "Chinese characteristics" in the region, which could then further slow down the progress of countries that still do not fully meet the criteria for becoming EU members. Primarily, this relates to the anti-corruption measures required by the EU. Likewise, there is a potential fear of having Western Balkan countries working for Chinese interests once they are part of the EU. This is primarily related to the condemnation of human rights violations, where the EU countries do not take a unified position.
Bosnia and Herzegovina has a major problem with air pollution and the opening of new coal-fired power plants could further worsen the security situation. Although BiH also promised to adhere to the Energy Community Treaty – which should bring energy policies closer to those of the EU – non-compliance has been condemned by EU officials. In addition, there is a criticism leveled at the quality of infrastructure projects, transparency in project design and the inability of countries to repay loans. A large number of Chinese companies, as well as lenders, are willing to embark on risky business ventures. Therefore, in many cases, they do not allow complete transparency in relation to the terms under which the deal is made. EU, World Bank and IMF warned BiH officials that there is a potential for economically non-viable contracts, which could eventually lead to obstacles in the EU integration process and in the implementation of reforms.
---
---
Part 2: Croatia
---
---
References:
"Bosna i Hercegovina i Kina: Pojas Nade i Put Spasa." Al Jazeera Balkans, March 6, 2019. http://balkans.aljazeera.net/vijesti/bosna-i-hercegovina-i-kina-pojas-nade-i-put-spasa.
Bakota, Ivica. "Bosnia-Herzegovina External Relations Briefing: Two Meetings in April." China-CEE, May 3, 2019. https://china-cee.eu/2019/05/03/bosnia-herzegovina-external-relations-briefing-two-meetings-in-april/.
China and Bosnia and Herzegovina. Ministry of Foreign Affairs of the People's Republic of China. Accessed December 1, 2019. https://www.fmprc.gov.cn/mfa_eng/wjb_663304/zzjg_663340/xos_664404/gjlb_664408/3145_664450/.
GlobalMarkets. "China's Focus Means Bosnian Economy No Longer Feeling Left Behind." GlobalCapital, May 7, 2019. https://www.globalcapital.com/article/b1f9hsg3215d32/chinas-focus-means-bosnian-economy-no-longer-feeling-left-behind.
Hui, Mary. "China Loves This Obscure 1972 Yugoslavian Movie-and Sarajevo Is Cashing In." Quartzy, April 17, 2019. https://qz.com/quartzy/1589664/chinas-love-for-old-yugoslav-war-movie-fuels-balkan-tourism-boom/.
Klix.ba. "Ambasador Ji Ping: Kina Će Izgraditi Tri Mosta Sa BiH, Očekujte Nove Projekte i Dionice Autoputa." Klix.ba, April 28, 2019. https://www.klix.ba/vijesti/bih/ambasador-ji-ping-kina-ce-izgraditi-tri-mosta-sa-bih-ocekujte-nove-projekte-i-dionice-autoputa/190426142.
Klix.ba. "GrađanimaSarajevaPredstavljen Program 'Taj Divni Peking' i ZOI 2022." Klix.ba, October 28, 2019. https://www.klix.ba/vijesti/bih/gradjanima-sarajeva-predstavljen-program-taj-divni-peking-i-zoi-2022/191028142.
Klix.ba. "PoloženKamenTemeljacZaGradnju 10 Kilometara Autoputa KodČapljine." Klix.ba, November 22, 2019. https://www.klix.ba/biznis/investicije/polozen-kamen-temeljac-za-gradnju-10-kilometara-autoputa-kod-capljine/191122054.
Klix.ba. "PotpisanUgovorVrijedan 88,5Miliona KM ZaIzgradnju Nove Bolnice u Doboju." Klix.ba. Klix.ba, March 14, 2019. https://www.klix.ba/biznis/privreda/potpisan-ugovor-vrijedan-88-5-miliona-km-za-izgradnju-nove-bolnice-u-doboju/190314087.
Kovacevic, Danijel. "Bosnian Serbs to Sign Deal on Expanding Chinese Teaching." Balkan Insight, June 14, 2019. https://balkaninsight.com/2019/06/13/bosnian-serbs-to-sign-deal-on-expanding-chinese-teaching/.
Lakić, Mladen. "Bosnia's China-Funded Power Plant Gets Green Light." Balkan Insight, March 11, 2019. https://balkaninsight.com/2019/03/07/bosnias-china-funded-power-plant-gets-green-light/.
N1 BA. "Analyst: China's Influence in Bosnia Economic Not Political." N1 BA, September 22, 2018. http://ba.n1info.com/English/NEWS/a286480/Analyst-China-s-influence-in-Bosnia-economic-not-political.html.
N1 BA. "Bosnia and China Record Significant Increase in Trade Exchange." N1 BA, February 11, 2019. http://ba.n1info.com/English/NEWS/a315352/Bosnia-and-China-record-significant-increase-in-trade-exchange.html.