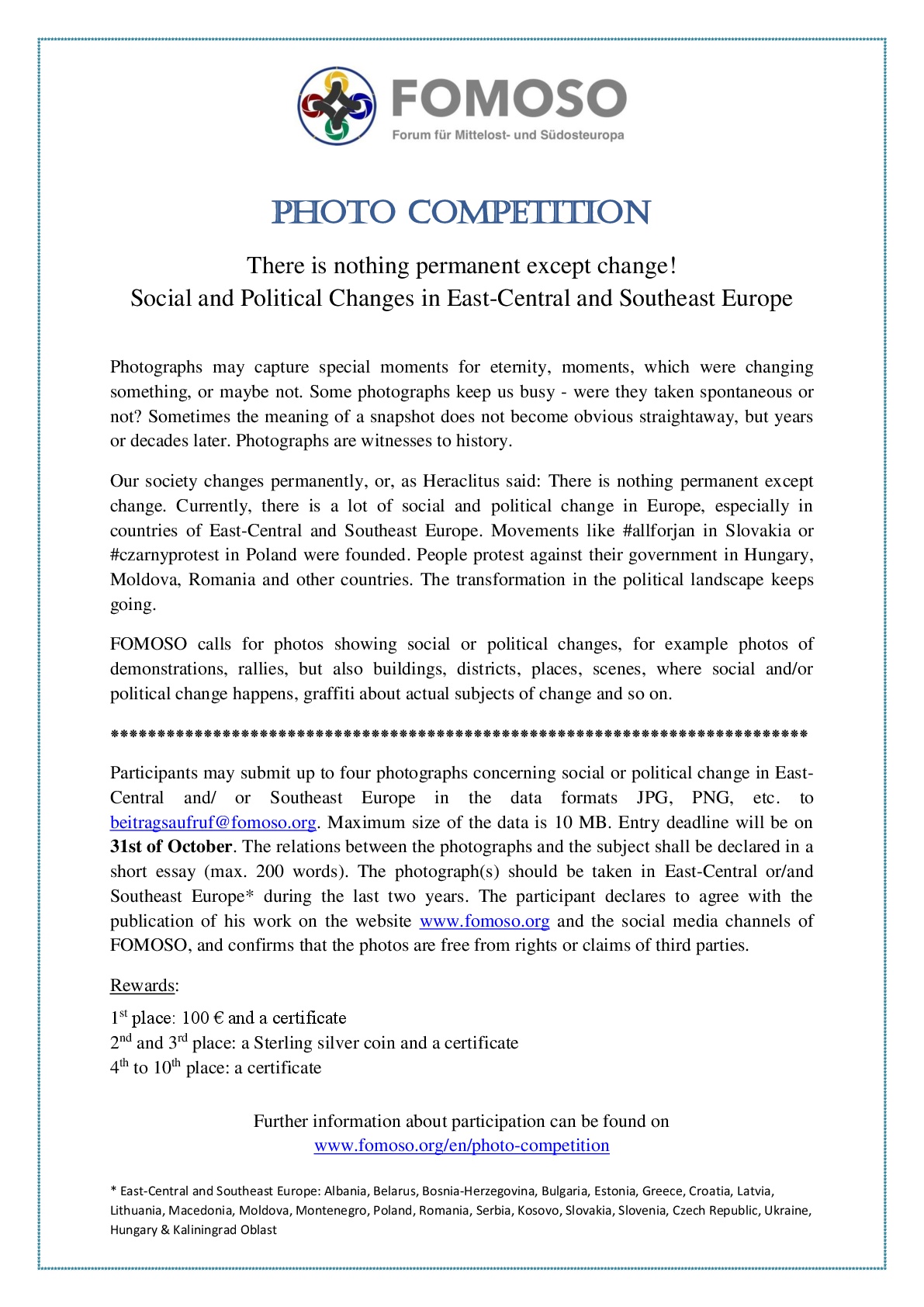 Further Information to the Entrance Requirements:
The NGO Forum für Mittelost- und Südosteuropa, below shortly called FOMOSO, hosts the photo competition "There is nothing permanent except change – political and social changes in East-Central and Southeast Europe". The winning pictures will be chosen by a jury. FOMOSO gives away ten interesting prizes. The winning pictures will be presented on the competition website www.fomoso.org and the awardees will be notified via email.
Authorized for participation are solely full age persons. The competition is opened world-wide.
Up to four photos, taken by the participant, are possible. The participant has to own all usage- and copyrights. The pictures must not be contrary to law of the country of origin and should be sent to beitragsaufruf@fomoso.org. Participation is only possible via email to this address, and transmittal via non-electronic mail won't be considered in the contest.
Maximum size of the data should be 10 MB. Current data formats as JPG, PNG etc. are possible. Submissions not referring to the slogan "There is nothing permanent except change!" will not be considered, as submissions containing contravention, glorification of violence, pornography, racism or other contents like the mentioned. The participant will not be informed about it. Besides, the host of this competition can change to entrance requirements at any time.
The participant authorizes the competition host FOMOSO to use the pictures for their public relations. This contains publication, duplication and distribution for advertising of the NGO. FOMOSO will us the pictures only in connection with the competition. This contains the usage for: publication on the internet and in social media, presenting the achievements of FOMOSO and other publications, for example press releases. Besides, the participant authorizes FOMOSO to publish the pictures open-ended and unlimited for non-commercial purposes.
The participant confirms that the photos are free from rights or claims of third parties. This means that all recognizable people on the pictures agree with the usage. FOMOSO cannot be prosecuted in case of breach of third-party rights. The staff of FOMOSO and their relatives cannot participate.
When publishing the pictures, FOMOSO will generally tell the whole name of the participant. If the participant does not want to be mentioned by name, the participant must inform FOMOSO and the name will not finally be published.
For publishing there will not be paid a fee. The prizes are nonreturnable. The prices cannot be handed to third persons.
The participant has to contact the host within 14 days, otherwise the price will be given to a new winner. Cancelling the participation via email is possible until 31st October 2018. FOMOSO guarantees to delete the submitted contents as soon as possible, except the winner pictures were already published on the website and social media.
By submitting pictures, the participant agrees to the entrance requirements. There is no legal recourse.