When:
2019-03-15T00:00:00+01:00
2019-03-16T00:00:00+01:00
Where:
Hungary
Budapest
Hungary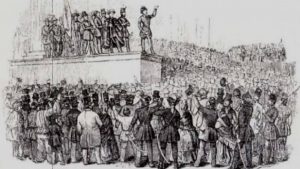 March 15th, 1848 is the day of the bloodless revolution, an important National Holiday. Hungarian people declared the end of all form of the Habsburg censorship and demonstrated for their independence without any violence.
The marching crowd went to the stairs of the National Museum. There, Mór Jókai read the list of demands, the 12 points, to the crown and Sándor Petőfi recited his famous poem National song (Nemzeti dal). The end of the day under the pressure of the people Emperor Ferdinand agreed to all points.
The revolution and the following independence war -even though they were defeated- mean a huge step towards establishing the Hungarian sovereignty, language and culture.
Hungarian people still gather at the National Museum and wear the symbol of 15th March a cockade to celebrate their national identity and to remember how precious freedom is.